James Madison High School | Portland Oregon


Class of 1961



Not a member?
JOIN HERE
Find and click on your name.

Is this your FIRST TIME here?
Are you a member of the Class of 1961 or an invited guest? CLICK HERE
Returning registered members - Did you forget your password? Click on "Forgot password" in the Member Functions box on the left side of this screen, enter your email address and you'll receive your password by email.
---
Welcome Senators

!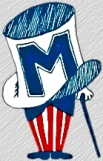 You've reached the James Madison High School Class of 1961 social networking site. We're building this site just for the First in Four. Our class claims this unique identity because we were there the first day Madison welcomed students in September 1957 through to our graduation day in June 1961!

Please check back often...
...We have a reunion here everyday!

This site is absolutely free to the members of the Class of 1961. Your information from this site, including your email address, is not made available to anyone. Our class owns the domain and creates the content. We don't carry any advertising; there are no fees. Of course we welcome your support and participation.
This announcement is currently inactive.
---
Welcome

!
If this is your FIRST VISIT to madison61.com, please take a minute or two to review this information.
For the privacy of you and all of our classmates, only registered members who are logged in have access to most of the contents of this site.
We welcome your participation in this social networking site created just for the Class of 1961. We ask all to help us maintain a positive, friendly, and respectful attitude.
When you register, you'll create a profile by answering a series of questions. Most questions are optional. The ones you answer will be displayed in your profile; the ones you don't answer will not. This site is set up as a social networking site. The more you share about yourself, the more other members will interact with you.
Once you've completed your registration, you can view the profiles of other registered classmates. You can change your profile at any time; you can also upload photos and YouTube videos to your profile. Show us your family, your kids and grandkids, your pets and your hobbies.

To start your registration (after you finish reading this page), click on Senator Profiles (under the logo at the top of each page) and find your name in the list which is arranged alphabetically by last (maiden) name. Click on your name and follow the instructions. You create your own password; should you forget it, you can have it automatically emailed to you.
No matter where you are on madison61.com, you can find your way easily and quickly back to the beginning by simply clicking on the Home Page link at the top of every page.

If you do not find your name, do not be disheartened. The names and pictures were taken from the senior section of the 1961 Federalist and supplemented over the years. This is not an alumni site per se; it is a site where all those who went to school together can reunite. If you tracked with our class and left MHS for any reason, please Contact Us through the link at the top (center) of the sign-in page.
Updated 03-29-2011
---
The Library is Open 24/7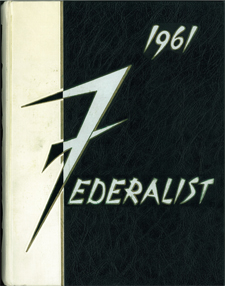 The Class of 1961's Library is now open. You can check out some of the key documents from our years at Madison including the 1961 Commencement Program, 1961 Federalist yearbook and Reunion Directories from 1971, 1981 and 1986. 1 issue of THE REBEL and 21 issues of The Constitution are available. If you find us more documents we will put then on the bookshelf.
Your registration at our website is your library card. Borrow as long as you'd like; no late fines. Enjoy a trip back to the past. Click on The Library

Posted 04-30-2011
---
Missing Persons
Here are the numbers: Our list of Senators from the Class of 1961 included 685. This list was developed from the Federalist Yearbook to which some names were added over the years to include others who journeyed with us through James Madison High School, but may have moved or left before graduation.
We know of 150 deceased members listed on our In Memory page. Of the remaining 511, we are missing contact information for 50. Can you help us locate old friends from back in the day? Do you know if any of these are deceased?
Click on Missing Senators to review our "Missing Persons" list and either let us know how to contact them or, if you have an email address for someone, you can simply enter that email address into the Missing Senators box near the bottom of this page.
Posted 03-29-2011
---
The Madison High School Weather
The links inside the weather box will open in a new window/tab.
Posted 04-03-2011
---
The Rose Tradition at Madison High School
Royal Rosarian Prime Minister Stephen E. Smith was the first principal of Madison High School in 1957 and started the tradition of planting a rose bush in honor of the school's Rose Festival Princess, Stephanie Priddy was the first in a list that now covers 54 years.
On April 27, 2007 the Royal Rosarians participated in the 50th annual rose planting ceremony at Madison.
Mouse over the cube to control/slow rotation.
Click on an image to freeze and view it.